Skip to content

Reserve your Hiking and Camping gear today!
Glacier Airport Reservations. For Glacier National Park reservations, click here.
Do you have questions about hiking in Glacier National Park?
Our staff is here to help. We hire great folks that know the park well. Drop us an email with any questions you might have. In the meantime head over to one of our favorite Glacier hiking resources Hike734.com founded by Jake Bramante. On May 17th, 2011, Jake Bramante stepped onto the McDonald Creek trail to start his project to try to become the first person to hike all 734 miles of trail in Glacier National Park in one season. He succeeded. You can also pick up his Day Hikes of Glacier National Park Map Guide and Going-To-The-Sun road driving guide at our shop to help you navigate one of the most amazing trail systems in the world.
Reserve your gear
Online using our easy to use booking system. To book online you must book 48 hours or more in advance.
Text, call, or email to have our reservations staff book your gear or get you a quote. Next day reservations end at 5pm local time.
Check out our gear
Don't see what you need or have questions? Text, call, or email us and we will be happy to help!
Need a map? We Recommend Hike 734.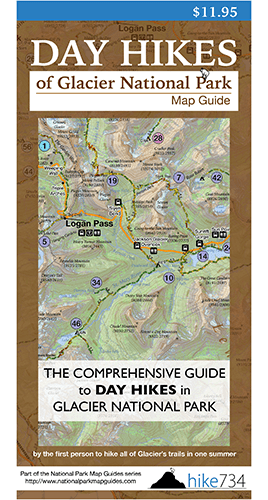 We highly recommend renting bear spray for your adventure.